Advanced framework for Skin Revjuvenation
PDO (Polydioxanone) threads are synthetic absorbable suture material used in cardiac and pediatric surgeries for over 50 years. The threadlift procedure consists of introducing multiple very gentle threads in an area with 2 actions in mind: a nice initial gentle tightening and a secondary improvement a few months later when the threads are replaced by collagen strands.
PDO Mono Threads or 'short threads' are designed to perform a revitalization skin treatment, the treatment is beneficial for skin tightening, skin thickening and to improve skin texture thus reducing the appearance of wrinkles. Once inserted into the skin, PDO mono threads activate collagen synthesis to gradually tighten and rejuvenate the skin. This provides the skin with a tighter feel and appearance and more of a youthful look.


What is a PDO Mono Thread?
Mono Threads are made from a material called Polydioxanone which is an absorbable polymer that is flexible and durable. Matrix PDO Thread induce production of collagen, creating a tightening effect for 6 to 12 months after your procedure. The threads become a support structure for your face allowing natural collagen production to take place, over time the PDO thread will be fully absorbed by the body. Typically, around 10-30 PDO mono threads are used to treat an area.
What patients are suitable and will benefit from this procedure?
Ideal candidate aged 25 – 65. It can be done as a treatment for a suitably volumised patient who needs tightening or skin improvement, or as a preventive procedure to prevent the face from sagging. PDO threads are unsuitable for patients with bleeding disorders, some auto-immune diseases, uncontrolled diabetes.

How long does the procedure take?
One of the most incredible benefits about a PDO thread lift is that treatment takes only 15 to 30 minutes. Expected treatment time varies on a case-to-case basis, but most of our clients are treated in under 20 minutes. After that, you are free to go back to your daily routine. Unlike a traditional facelift, there is no downtime or recovery associated with this treatment. Please allow 20 minutes before procedure for topical anesthetic to be applied.
Is the procedure painful?
This pain-free treatment starts with numbing the treatment site. This ensures you feel no discomfort during your treatment. The PDO threads will be inserted via needles known as cannulas. Some tenderness may be experienced after the first few hours following treatment.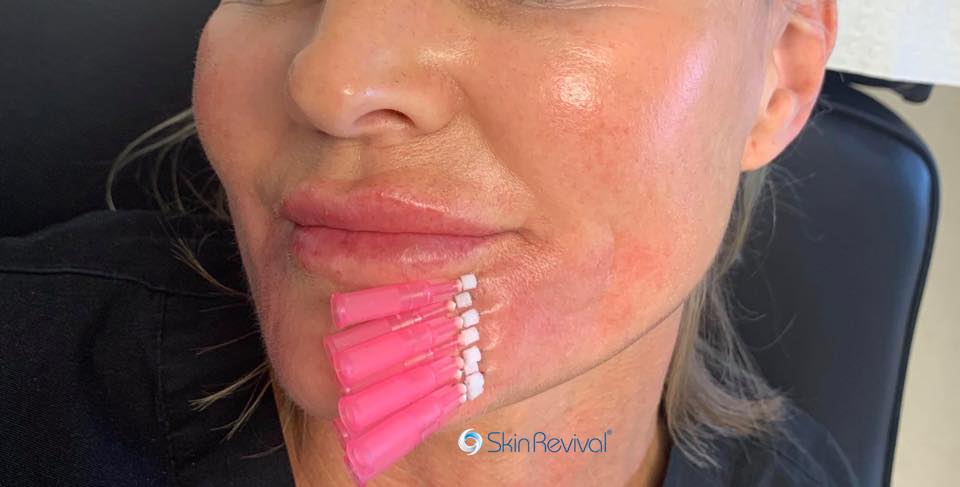 What areas of the face neck and body are these threads suitable for?
Upper and lower cheeks
Neck and jaw line


Jowls

Marionette lines
Under eye area
Forehead and brows

Nasolabial folds
What is the downtime associated with this procedure?
Some swelling and bruising can be expected in this procedure as the skin is punctured and penetrated multiple times with the threads. This usually resolves within a few days to weeks depending on the patient.
The results of a PDO thread lift are immediate. Even better, results improve after two to three months as your body finishes producing new, healthy collagen.
What is the cost?
10 threads $350
20 threads $600
40 threads $1000
60 threads $1300